Schotse soldaten hebben de afgelopen 500 jaar over de hele wereld gevochten. Regimenten werden in tijd van oorlog samengesteld en na afloop weer opgeheven, van naam veranderd etc. Voorbeelden hiervan zijn:
√ The Royal Scots Dragoon Guards
√ The Scots Guards
√ The Royal Scots
√ The Royal Highland Fusiliers
√ The King's Own Scottish Borderers
√ The cameronians
√ The Black Watch
√ The Highlanders
√ The Argyll and Sutherland Highlanders
Mijn oudst bekende voorvader, James Steward (Jacobus Stuart), was soldaat in het regiment van George Hamilton. Dit regiment was ten tijde van de Spaanse Sucessieoorlog in de Zuidelijke Nederlanden. In 1706 was het regiment gelegerd te Nijmegen en stond onder leiding van de Duke of Marlborough. Het regiment Hamilton maakte deel uit van 'The Royal Scots'.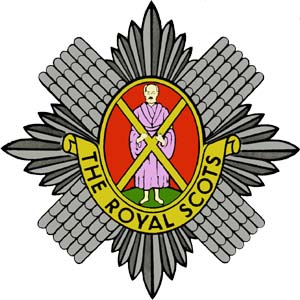 Royal Scots Regiment    (Bron: The SCOTTISH REGIMENTS, Diana M. Henderson.)
Het Royal Scots regiment is het eerste Regiment of Foot en het oudste regiment van het Britse leger. Het werd opgericht in 1633 door John Hepburn. Die mocht van Charles I en de Scottish Privy Council recruteren in Schotland als aanvulling op overgebleven soldaten van eerdere regimenten. Charles I kwam met Louis XIII overeen dat het regiment ook in het Franse leger dienst deed. Dat was echter in die tijd niet zo vreemd als het nu lijkt.
Het regiment bleef gedurende de Glorious Revolution van 1688 loyaal aan koning James II, maar na het vertrek van de katholieke leider, de Earl of Dumbarton, en het vertrek van veel officieren en manschappen, sloot het regiment zich aan bij de protestante opvolgers, Willem van Oranje en Mary Stuart, tijdens de oorlog van de 'League of Augsburg' op het vaste land. Het regiment diende daarna in Holland, waar het onder leiding van de Duke of Marlborough vocht tegen de Fransen in de Spaanse Successieoorlog (1702-1714).
---